It's almost 2012! I can't believe it. It has been such a fun year of blogging. Last week I reviewed the challenges I did in 2011 but now it's time for us to think about our 2012 challenges!

Kellee has decided on a bunch of challenges and I'm going to tag along on a few of them.
I'll let her tell you about them! Here's Kellee:


Below are the 5 challenges that I am going to participate in during 2012.
This is my first year participating in blog reading challenges (and I think I went majorly overboard) and I am very excited!!!


For this challenge you can read Dystopian, Post-Apocalyptic or Ecotopia books.
Level: Contagion- Choose 15 books to read
1. Fever by Lauren DeStefano
2. Pandemonium by Lauren Oliver
3. Insurgent by Veronica Roth
4. The Death Cure by James Dashner
5. Drowned Cities by Paolo Bacigalupi
6. Bumped by Megan McCafferty
7. Ashen Winter by Mike Mullin
8. Legend by Marie Lu
9. Crossed by Ally Condie
10. The Unwanteds by Lisa McMann
11. Bar Code Tattoo by Suzanne Weyn
12. Under the Never Sky by Veronica Rossi
13. Dark Falls by Kat Falls
14. All of These Things I've Done by Gabrielle Zevin
15. The Kill Order by James Dashner
Alternates:
Birthmarked by Caragh M. O'Brien
Shadows by Ilsa Bick
Middle Ground by Katie Kacvinsky
A Million Suns by Beth Revis
Unwholly by Neal Shusterman
Son by Lois Lowry
Cinder by Marissa Meyer
Struck by Jennifer Bosworth
Outpost by Ann Aguirre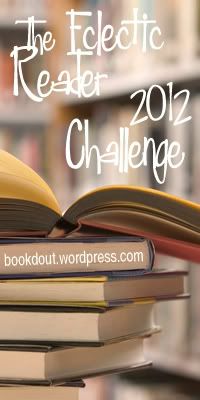 For The Eclectic Reader 2012 Challenge I am challenging myself to
read 12 books throughout the year from 12 different genres.
Although I usually hit most of these genres,
the literary fiction one and classics will definitely push me.
5. Young Adult
6. Fantasy
7. Science Fiction
8. Non Fiction
9. Horror
10. Thriller Suspense
11. Classic
12. Your Favorite Genre (Dystopian!)


With this challenge you get to set your own goal and I am going to go with planning on
reading 10 award winning books this year. I'm not going to plan, though,
because many of them will probably be award winners from this year.


Once again I'll be participating in the
Goodread's
reading challenge where I'll challenge myself to read even more than this year. I set my goal at 255 for this year and then read over 270 books. For 2012, I'll set my goal at 275 and hope that I will hit it and go over like this year.
This one is self explanatory. The 100 cannot include audio books or nonfiction.
As you can see from the GoodReads challenge, I aiming to read 275 books in 2012,
so at least 100 should definitely fit this challenge.
I am also going to start a couple of multi-year (possibly
many
years) challenges.
Mr. Schu at
Watch. Connect. Read.
and Mr. Sharp at
SharpRead
have started a stress free Newbery Medal Reading Challenge (#nerdbery). I am challenging myself to read all of the Newbery Medal winners. I don't know how long this will take, I don't know if I'll do them in order and I don't know if I'll reread the 35 I've read, but I am accepting the challenge.
Along the same lines, Anna at
A to Z Library
and Laura at
LibLaura5
are also doing #nerdcott which is reading all of the Caldecott winners (and honors; though I am only going to do the winners). I will jump into this one too, but with the same promise as #nerdbery: I don't know how long this will take, I don't know if I'll do them in order and I don't know if I'll reread the ones I've read, but I am taking on this challenge.
Lastly, Kathy at
The Brain Lair
is challenging herself to read all of the Printz winners and honors, thus crowning #nerdprintz. Again, who knows how long it will take, etc. etc., but I am jumping in.
Check out the Goodreads lists for each:
#nerdbery list
#nerdcott list
#nerdprintz list

* * *
Kellee really chose some great challenges! I really like the idea of the Eclectic Reader Challenge...except the horror and suspense/thriller one have me hesitant. I know that I really cannot handle those kinds of reads so I'm not committing to that one. I am, however, definitely doing the GoodReads challenge to read more in 2012 than I read in 2011. That was a goal I set for myself in 2011 and I definitely want to do that again. I did read a ton in 2011 but that's okay, it's a perfect goal for me.
In 2011, I wanted to read more non-fiction because I didn't feel like I read enough non-fiction. This year, for the same rational, I'm choosing to do the
Fearless Poetry and Exploration Challenge
by
Savvy Verse and Wit
. I only have to read 2 books of poetry which I don't think will be a problem at all. I will probably read poetry from somewhere in children's literature. And especially novels in verse.
I love audiobooks and listen to them on my long drive to and from work so I am so excited about the
2012 Young Adult Audiobook Challenge
hosted by
A Book and a Latte
! I shouldn't have a problem listening to 12 audiobooks throughout the year but I met a representative for Books on Tape at NCTE and realized I need to make sure to share that I've listened to a book and to incorporate a review of the audiobook aspect of my experience. For me this challenge is about reviewing audiobooks that I read as much as it is about listening to the audiobooks. I already have a great line up ready to go!
What challenges have you signed up for in 2012?
We look forward to another great year of reading and sharing books!